`Spelman•ish | The College Summit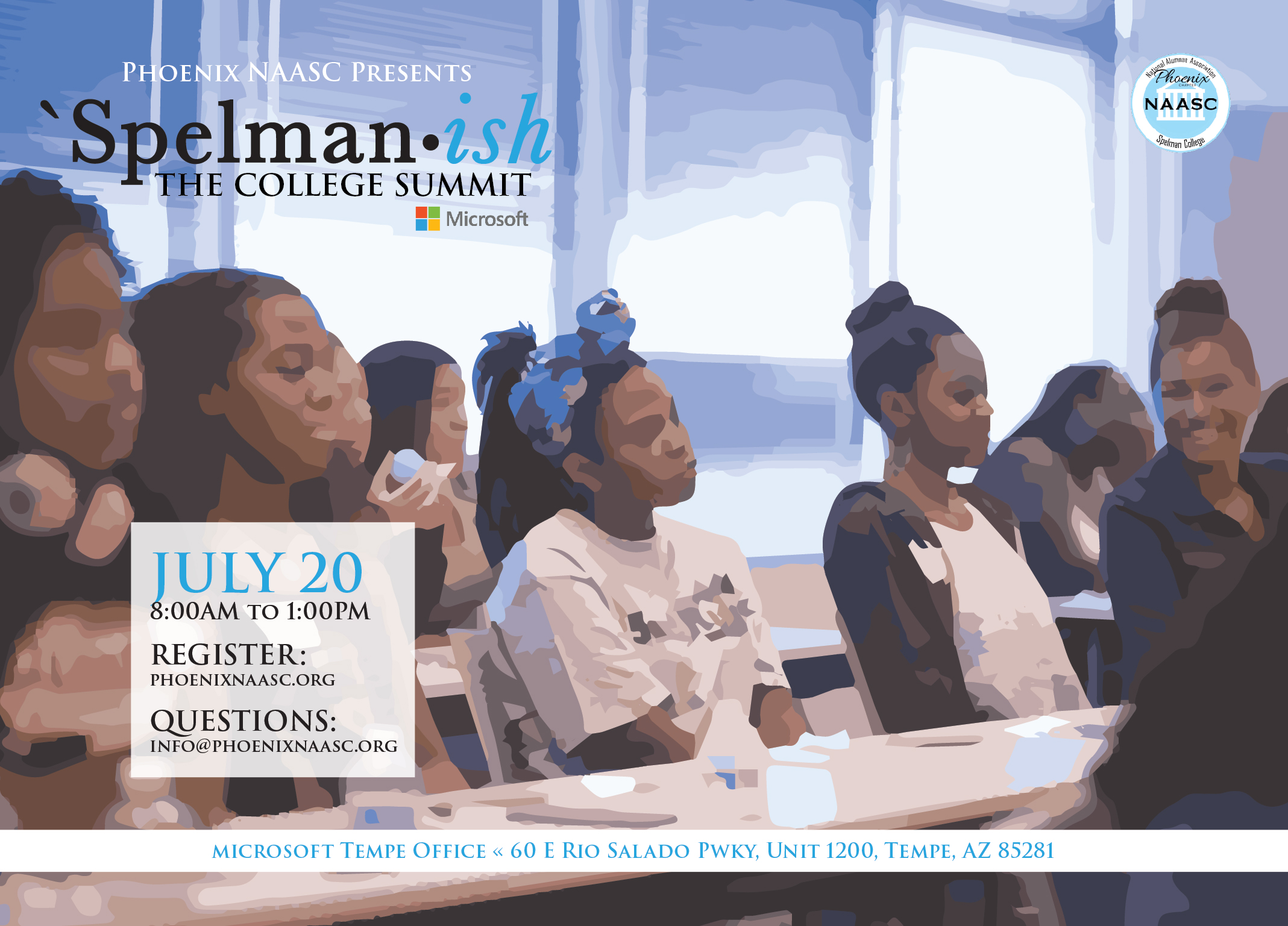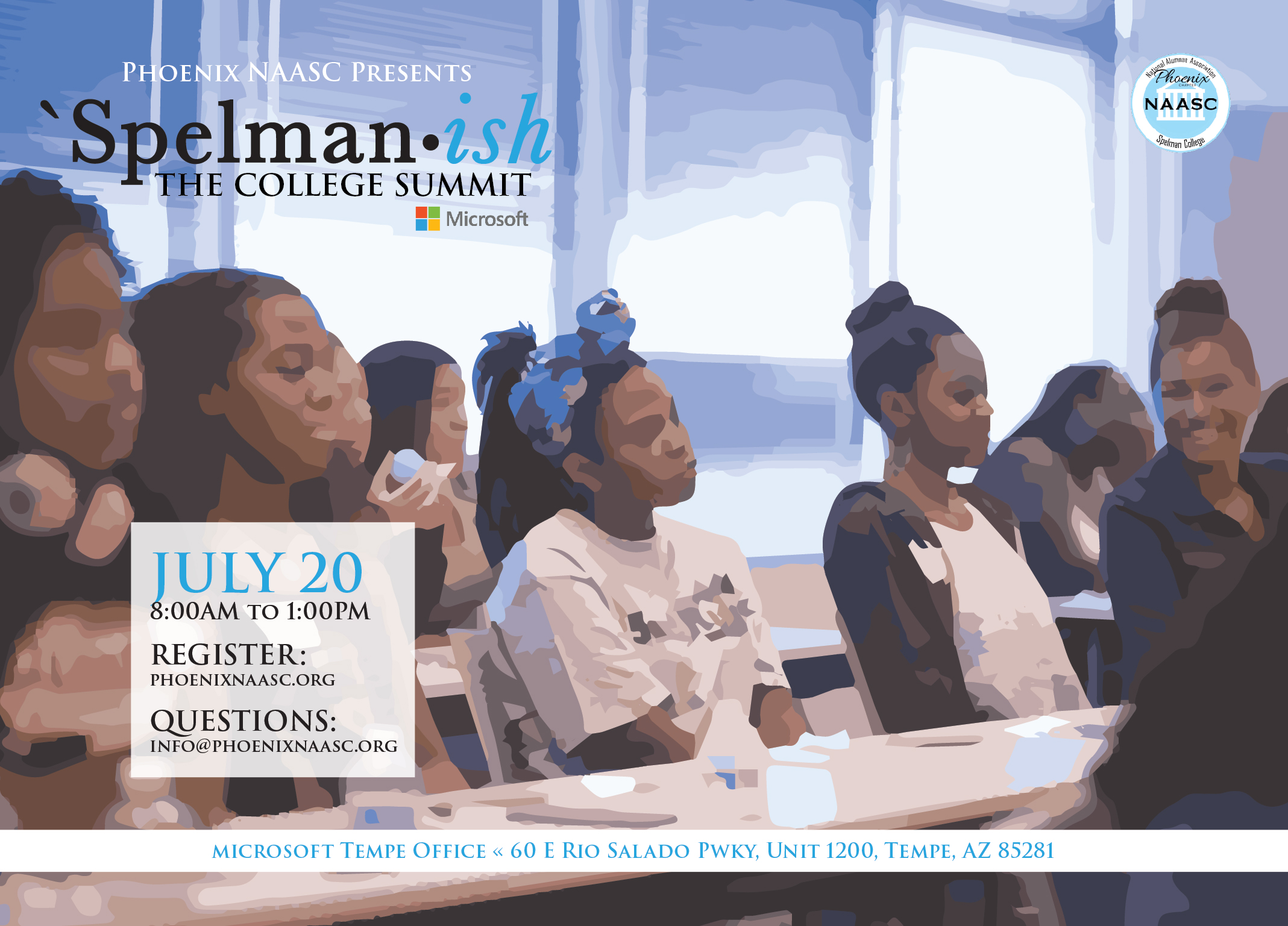 sold out
`Spelman•ish | The College Summit
2019 REGISTRATION IS NOW OPEN
WHO
Girls between the ages of 13-18, currently enrolled in high school (rising freshmen may register).
WHAT
The College Summit is a unique college readiness and awareness initiative that combines college preparation with youth engagement and local Alumnae mentorship.TCS is designed to provide female high school students with information on applying to college and empower them to embrace all of their uniqueness as a young woman of color. All High School aged females attending school in Arizona, are encouraged to attend!!!
WHEN
July 20, 2019
WHERE
Microsoft Tempe Office, 60 E Rio Salado Pkwy, Unit 1200, Tempe, AZ 85281, United States
VERY IMPORTANT: PLEASE READ
Please be advised that this is a youth ONLY event. Parents are not allowed to stay with their child. Due to space capacity parents will not be allowed to wait around. In the future we are planning to have a parents college preparation night. No participants will be permitted to leave Phoenix NAASC's TCS 2019 without prior written notification from a parent/guardian. In the event that your child(ren) does leave: (1) Phoenix NAASC CANNOT be held responsible and (2) your child(ren) will NOT be permitted to return to future events unaccompanied.
PHOTO RELEASE
The Phoenix Chapter of National Alumnae Association of Spelman College (Phoenix NAASC) periodically uses electronic and traditional media (e.g. photographs, video, audio, testimonials) for publicity and advertising purposes. By registering for this event, I acknowledge receipt of this document and give permission to Phoenix NAASC to use such reproductions of my child in any and all forms of media for educational, publicity, or advertising purposes in perpetuity without further consideration from me.
I hereby waive any right to inspect or approve the finished photographs or printed or electronic matter that may be used in conjunction with them now or in the future, whether that use is known to me or unknown, and I waive any right to royalties or other compensation arising from or related to the use of the photograph.
QUESTIONS?
If you have any further questions, please check out our FAQ page or email info@phoenixnaasc.org for specific questions about registration.
SPELMAN-ish
The College Summit
Phoenix NAASC's College Recruitment and Outreach Summit for Young Black Girls

8:00 AM Registration
8:30 AM - 8:55 AM
Welcome
9:00 AM - 9:25 AM
The Spelman Experience: Then vs Now
9:30 AM - 11:30 AM
Session 1: The Pathway to Spelman Lane | Hosted by Spelman Alumnae
An overview of the college application process, submitting a competitive application packet and ways to fund your education.
Session 2: Beyond the Gates |Hosted by Spelman Alumnae
An overview of the various majors offered at Spelman and how Alumnae have used their education to propel themselves professionally and personally.
Session 3: Black Girl Personified: The Beauty, Power and Resilience of Black Women |
An empowering session focusing on Self-Empowerment, Professional Development, Standing in your truth and Character Development.
11:40 AM - 12:10 PM Lunch
12:15 PM - 12:45 PM
HER DREAMS MATTER
A session exploring the power of dreams through the creation of vision boards and vision statements.
12:50 PM - 1:30 PM
Closing